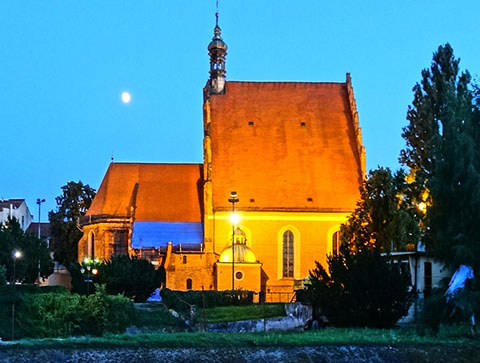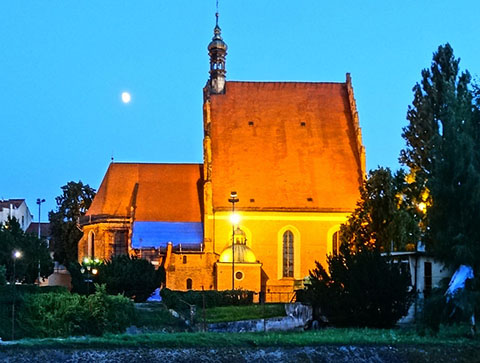 BYDGOSZCZ – parish church of St.. Marcin and Mikołaj with the miraculous image of Our Lady of Beautiful Love, city (town rights from the 14th century) at the mouth of the Brda River to the Vistula River, in the Archdiocese of Gniezno.
Bydgoszcz – once (XII w.) castellan stronghold, today a strong industrial center, scientific and cultural. The oldest part of the city, with most of the monuments, it is situated right on the Brda River. Within it there is also a late Gothic parish church of St.. Marcin and Mikołaj, built in 1466-1502, with gothic, graces famous image of Our Lady of Beautiful Love placed in the main altar. The picture shows Mary, standing, holding Jesus on her left hand, and on the right – developed, a crimson rose. Two angels lift a crown over her head; there is a crescent moon under her feet. In the left, the lower corner of the picture is a kneeling man (probably Stanisław Kościelecki) with hands folded in prayer. According to tradition, the painting was donated in 1466 as a votive offering for victorious fights with the Teutonic Knights during the Thirteen Years' War. During the partitions, it was distorted by applying oil prints to the face of Mary and only after the First World War it was renovated, restoring its former appearance.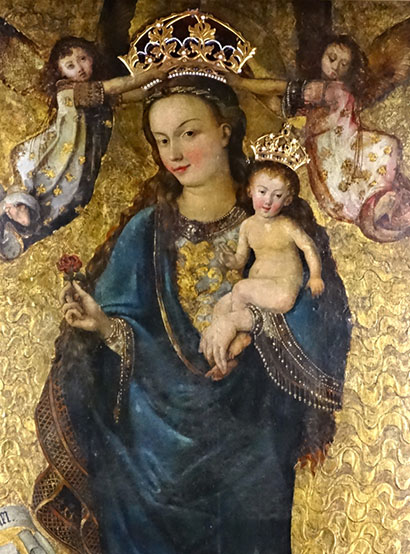 Currently, it is considered by art historians to be one of the most beautiful images of the Mother of God, graces famous in Poland. The once numerous votive offerings were consecrated during the Kościuszko Uprising for national purposes. The cult of the Mother of God in the church of St.. Martin and Nicholas existed at the beginning of the 18th century., as evidenced by the adornment of another image of the Mother of God with the Child from approx 1700 r. silver dresses and crowns (this painting is now on the side altar). However, a special devotion to the Mother of God only developed 200 years later in connection with the image of the Madonna with the rose. This image was crowned 29 May 1966 – on the 500th anniversary of the enthronement of the image in the parish church in Bydgoszcz and the 1000th anniversary of Christianity in Poland – by the Primate of Poland, Stefan Cardinal Wyszyński, with the participation of the Metropolitan of Krakow, Archbishop Karol Wojtyła, the present Holy Father. The most important indulgences, gathering large crowds of believers, it is the Nativity of Our Lady of Beautiful Love (8 September), st. Martin (11 November) and St.. Nicholas (6 of December).