Lublin – Guide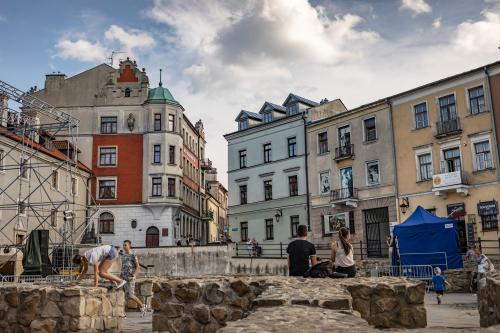 A WALK WITH A GUIDE IN LUBLIN.
Lublin is a city with over 700 years of history and many valuable monuments. The most important are the Castle Hill (Lublin castle, Castle Chapel, A defensive tower called the Donjon), Krakow Gate, Trinitarian Tower, Dominican Monastery, Lublin Cathedral. There are many book guides available that describe Lublin perfectly, but nothing can replace a walk with a real guide dressed in a noble's outfit, which also interestingly tells about Lublin or trips with a tour leader. A guided tour of Lublin is an unforgettable adventure not only for visitors to Lublin, but even for the residents themselves. Thanks to this, in addition to information about monuments, we will hear interesting legends about Lublin that cannot be found in book publications. A guide in Lublin dressed in a knight's suit or a tour leader is an unforgettable adventure not only for adults but also for children. Lublin guides are open to all suggestions of their clients, offering various routes and selected monuments in Lublin, depending on the requirements of the guests.
SIGHTSEEING LUBLIN
Each of our tourist guides is a person with many years of experience who combines his work with the passion of discovering Lublin and showing all its secrets. Each of our trips is an unforgettable experience not only for adults but also for the youngest. Sightseeing is not only watching, but also trips combined with tasting dishes from the wonderful regional cuisine. It is also regional wines and beers.
See and visit the most important monuments and attractions in Lublin. The route of visiting Lublin depends on your form and the time you spend visiting the city. Our preferred time to visit it 1 or 2 days. Although the time for a trip around Lublin may be extended to 1 week, taking into account the large number of monuments and the time we will devote to seeing each of them.
We propose to start sightseeing of Lublin from the Castle Hill where the Lublin Castle is located, The Holy Trinity Chapel and the defensive tower known as the Donjon. Another point is the Old Town with numerous monuments: Dominican Monastery, Trinitarian Tower, Krakow Gate, Lublin Cathedral, Old Theater, Town Hall and other monuments. Outside the Old Town, it is worth seeing the former German concentration camp Majdanek, operating during World War II, The Lublin Village Museum, where we will move to the distant rural past and have a nice time in silence, and the Botanical Garden with wonderful vegetation from different parts of Europe and the world.
BROCHURES AND GUIDES
Planning a stay in Lublin or wanting to get to know the city better, should be stocked with Lublin tourist guide or other travel brochures. Such items can be ordered in advance on the Internet or bought / obtained at the tourist information office in Lublin. The selection of Lublin tourist guides and thematic brochures is very large. In addition, in the tourist information we can get information brochures about current events in Lublin, which take place throughout the year from January to December.
We can include among the most interesting cyclical events taking place in Lublin for many years: Lublin season (April May), Culture Night (June), Carnaval Arts-Masters or The Jagiellonian Fair August and other monthly events.
The Castle Hill with the Lublin Castle, Krakow Gate, Trinitarian Tower, Lublin Cathedral or the Dominican Basilica are the most important monuments in Lublin which must be seen.
All these cyclical events taking place in Lublin and detailed descriptions of monuments can be found in generally available tourist guides and brochures about Lublin.