Marseille - a quick getaway guide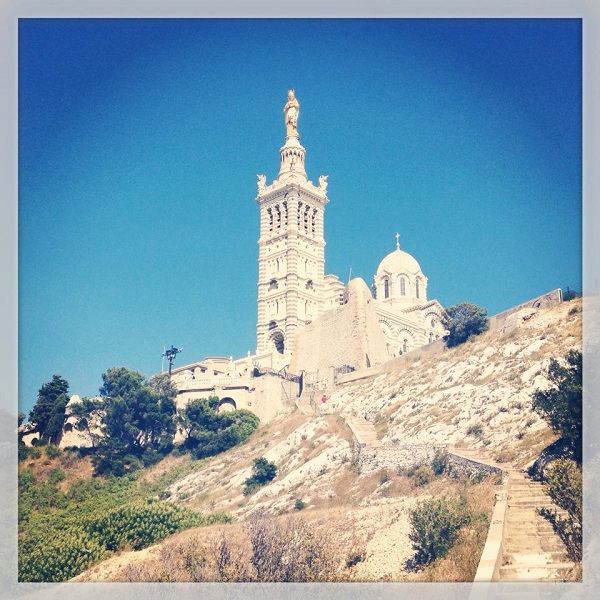 Marseille is a city, that will surprise you, it will scare and ... at times delight.
The first images that come to mind are the Basilica of Notre Dame de la Garde, dominating the city from the top of the highest mountain in the area, as well as the Old Port covered with yachts and surrounded by restaurants full of seafood.
Będąc w Marsylii na zmianę będziemy się czuć jak w Paryżu i w Kairze. Beautiful neighborhoods are mixed up with absolutely dilapidated ones, where developers are just entering with a series of new buildings.
The best example of the latter Marseille is the Nationale metro area with the 142-meter Tour CMA CGM skyscraper, which looks like Saruman's tower in the middle of the battlefield. Brand new hotels have just been built here, but the neighborhood is still dilapidated tenement houses, crumbling warehouses and wandering immigrants. It just so happens, that we came here straight from the station and for a long time we wondered if it was Marseille.
Marseille - What to see?
Our Lady of the Guard, erected in the mid-nineteenth century on the top of the highest mountain in the area. The church is nice from the outside, nightmarish inside (eclecticism, neo-everything), while the view is simply breathtaking. The chapel is also very nice, from the 13th century. I encourage you to climb, especially from the vicinity of the Old Port, it will provide a very pleasant experience, while for the lazy, good news: you can get to the top by car, and there is even a bus stop near the top.
Old Port (Old Door) and surroundings - every restaurant is lovely, the boulevard surrounding the port is lovely, and the districts to the east and south are also worth visiting. It's worth setting aside a good day, to wander here (and be sure to check out La Place Castellane). Generalnie przypomina to wybrzeże w moim ukochanym SIbeniku, however, it is much more crowded and more touristic.
Le Panier - the oldest part of Marseille, located just north of the Old Port - easy to miss! (between the avenues of the Republic and the avenue of Robert Schuman). Steps, cafes, narrow tenement houses and even narrower streets - a perfect place for Instagram lovers.
Palais du Pharo - a palace with a large lawn, where you can laze among modern sculptures. It's worth going down below, towards the Old Port, where hidden (without any hints ...) there is a lovely cafe with a great view of the Old Port and with really nice coffee.
St.. Vincent - a lot, much nicer in my opinion, and much less famous and of course less picturesque is the cathedral of St.. Vincenta z 1855 year. Built in the neo-Gothic style, it resembles a bit Parisian Notre Dame.
Noailles metro area - in the evening it seems a bit dangerous, but during the day you can wander through Arabic and Chinese shops and restaurants.
Others worth seeing: Longchamp Palace, katedra La Major
Marseille - Food
French pubs: delicious. Food for tourists: expensive and nightmare. What to follow?
1. The menu is only in french.
2. The waiter can barely speak foreign languages.
3. The guests speak French.
The famous fish soup is a must:"Bouillabaisse" - only God forbid in the port and in any tourist pub. It is delicious, filling and even smells nice like something made of fish. I ate twice - on the first day at the horrible tourist restaurant Cuisine a la Buerre in the Old Port and later delicious in Chez Paul on Saint-Saens.
Of course, it is worth eating seafood. For breakfast, I suggest a trip to La Samaritane - a restaurant that has been looking the same for a hundred years in the Old Port with the Michelin distinction (southeast corner).
Out of curiosities: you have to adjust to the French rhythm of eating papu. You can only eat something solid during the hours: 12-15 and po 19:00. Between 15:00 a 19:00 we are dealing with a dead zone, during which the French believe, that we only deserve sandwiches, coffee and beer.
Marseille - where to sleep?
Generally - for a couple - I would recommend two places:
Hotel Appart' – 118-120 rue de Ruffi – niedaleko metra Nationale – my zapłaciliśmy 20 euro per head (41 in total) per night, twice. Quality is like in 3 star hotel, lovely rooms, very nice service. Overall, however, it can be difficult to find rooms for this price (you have to hunt for promotions). The location is not ideal - the neighborhood, which is still in the making (I wrote about it above), but by metro we are in the center of 10 minutes, and on foot in 25-30. Two steps to the sea.
Hotel de l'Ariana – na 12 rue du Théâtre Français – zaraz przy metrze Noailles – okolica jest w porządku, close to the Old Port. The rooms do not bring you to your knees, but for 50 Euro is probably the best that can be found for two (25 on head)
Generally, I recommend booking.com when looking for accommodation - especially if the price is important to you. You just have to remember, that there is a refundable deposit, and when they come they'll ask us for money anyway.
Marseille - Finally
It is worth going to Marseille this year (2013), because it is this year's European capital of culture. Consequently, it is full of performances, concerts and generally, widely understood attractions.
Good to remember, that restaurants in the Old Port are much more expensive than all the others, and the food isn't necessarily the best here either. For culinary hits, it is worth going on rue Saint-Saens.
And of course you have to bring your mother the famous Marseille soap as a gift.