Singapore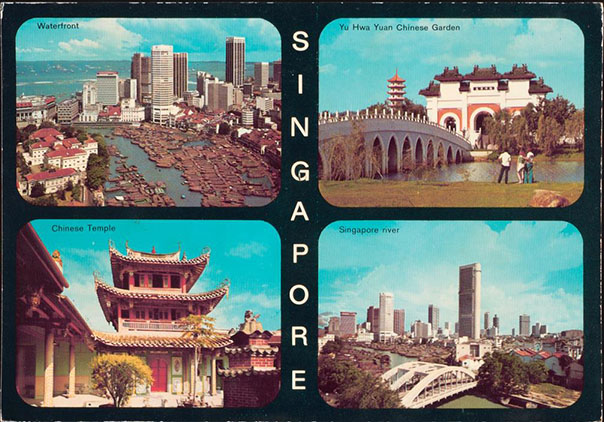 The first thing, which attracts attention after landing, it's hot, of course. And the humidity. In some surprising way, it is not particularly tiring. Apparently the rainy season - now - is cooler, but still at temperatures above 30 degrees and humidity of the air driving to the areas above 90%, I would expect death in agony, and I live and visit feeling quite well.
Second thing, therefore. Light. Everything is flooded with almost white light! The sky is pale blue, and the streets look like fluorescent lights. If you pay attention to such things, it is really impressive!
Singapore - Green city
Well three. City. The city is unlike anything, what i saw before. Clear, full of beautiful gardens - lush green even spilling onto the sidewalks, - absolutely not suitable for pedestrians (you have a car, not then use the subway!) and intended only for shopping.
The streets of the city center are crowded with crowds from all over the world, spending all currencies on goods from all over the world at significantly inflated prices. Nikt tu nie oszczędza. When I write from all over the world I am not really exaggerating. In addition to all brands that can be found in the States or the largest cities in Europe, except for the absolute most exclusive merchandise, You can find flowers such as Bata's shop tucked into a small street or a grocery store in the middle of a boring suburb, which sells exclusive preserves from a town of several thousand people in southern France.
The Orchard street in particular is impressive. In a short distance, I've gone through four Rolex stores (I don't think I have seen a single one in Poland). Basically, the whole street could be covered with a roof and called the world's largest shopping center, because nothing else is there.
Singapore - Everything is forbidden, no police
Another curiosity: you can't see the police at all. For a country with a rather authoritarian system and famous penalties for… everything (over a thousand zlotys for littering or sticking chewing gum to something), the locals seem to trust human reason, and meekness. Maybe my ignorance is great, and the entire services are rummaging around the city in civilian ... maybe. Anyway, not to feel their presence.
I mentioned, that pedestrians are unusual here. I walked today from the center of the shopping district to the financial district - about seven kilometers - causing a real sensation among locals I know (my local friends, it's local, more or less golden youth). "This is where there is some sidewalk in between?", "You can walk there?", "How much did you walk? Three hours?" And so on. The walk was nice, but in fact I looked at the traffic lights like a fool - there is no equality in the length of the lights for cars and cars.
No, that's it in the meantime. I gathered for a personal entry. I'll hang around a little more here, so maybe I'll write something else. I live in the neighborhood, where I am the first white man in history and they look at me like ... a dog on TV. It's nice. In a week I'm going to Kuala Lumpur.
PS I was still at the strangest Chinese wedding / wedding in the world, but I don't even know how to describe it. The pastor was leading it, throwing jokes like Strassburger from the familiade and screaming "Eeeej-men!" after each statement. Maybe I will be able to comprehend it in writing ...