At payment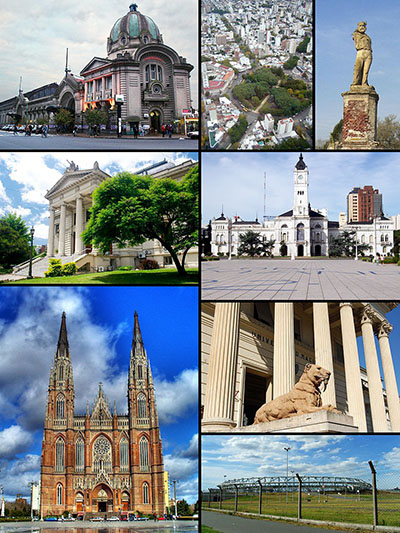 I returned from South America a good two weeks ago - it's high time to transfer some of my paper notes to my computer. What to keep chronology - La Plata, Argentina. Trafiłem tam busem z Cordoby, after I lost my night in Buenos Aires and I had to find an alternative place. La Plata leży godzinę od Buenos Aires, access in 6 PLN by bus - the choice was obvious. I got there early in the morning, I made an appointment with the girl I was staying with for a late afternoon, so I had a lot of time to get to know this unusual place.
La Plata is one of those cities, which were first designed entirely, and then it was built according to the plan. Nothing there about the organic development of cities. Enlightenment rules etc.. Interestingly, unlike the baskets of Brasilia, with its squares suitable for airports and football fields, La Plata is exceptionally enjoyable. Modeled on Washington (another city designed) it has a very clear street layout, extensive parks and some really nice buildings.. in the Renaissance style. Someone might complain about this 19th-century attack of classicism (as a curiosity - based mainly on the Dutch and German Renaissance), but as a resident of a city with a sixty-year old town (worse! resident of such a tenement house!) I have no right, nor intention to complain. Especially, that everything is pretty in this city. The huge cathedral is worth seeing, modern theater, but it's really worth wandering around the parks in the center, turn around the town hall and see the city where every square meter was laid in advance.
Where did La Plata come from?? In the 1860s, people feared the rise of Buenos Aires, the country was on the verge of civil war… and the idea of ​​creating a competitive metropolis under the nose of divine Buenos emerged. Portenos (the people of Buenos Aires) they protested sharply, but they failed to do anything. And so under his breath arose them, today, city ​​with a population of 700,000.
Is it worth visiting?? Definitely yes, but for three days at the most. To trochę jak z Bahia Blanca. I spent 24 hours there. One and a half days for sightseeing is enough to take it easy, together with the most interesting museums maybe two days. It's a great place to catch your breath after the madness of Buenos - it's fun too, that the city is fairly safe (only after going to my friend's apartment, I walked through the less interesting surroundings, but it was really far from the center). It is also the third largest student city after Cordoba and Buenos Aires, which makes it possible to party well - the number of bars with good music is especially surprising. Something downside? Surprisingly large number of begging children - though maybe I was so attacked, because it was the first time I walked all day with a huge backpack, who shouted GRINGO!