Autostop - Rio Grande i Pelotas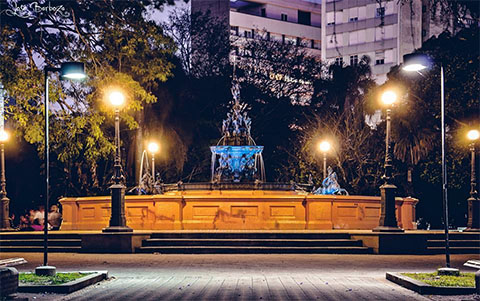 Po przekroczeniu granicy tradycyjnie czekał nas spacer – mało kto odważy się brać autostopowiczów w zasięgu czujnych celniczych oczu. After walking a few kilometers, a couple of Uruguayans stopped for us. The woman behind the wheel, a cruelly handsome husband, sipping mate on the passenger seat. We learned, that they once moved to Brazil for work, they liked, but they still return to the "old country" regularly. It was a smooth transition for us into a new world - of course they both spoke Spanish. My friend learned to speak purely during his five months in Argentina, and I figured it out enough, to listen and sometimes add a comment. Traditionally, in Uruguay, they dropped us off only twenty kilometers. A Brazilian plainclothes policeman pulled up next, carrying documents of some criminal case into the interior of the country.
By hitchhiking through Brazil
It's like someone is preparing a smooth transition to Portuguese for us, he spoke a little Spanish and aided himself in Portuguese. We took turns sleeping on the seats. First me, then my buddy. During my watch, I talked to him about the motocross (he did not like football), crime in Brazil and ... women. Brazilian, who doesn't like football can happen, but such, neither interested in football, nor a woman, I don't think he was born yet. In the meantime, he transported us 250 kilometers to Rio Grande. As it turned out, he could throw us out earlier, because we should drive through the nearby, on the other leg of the Pelotas highway junction. So traditionally, we landed in a foreign city without a map and no local currency. Only that was new, that we didn't know the language either. We started circling, trying to find out in Spanish, where is the bus station - hitchhiking from town to town, to drive 30 km seemed pointless to us. But no one understood what we meant. Finally, in my Lonely Planet guide, we dug up the phrase "bus" - "onibus", and also "where?" - "Where?". Then it went more or less downhill. A few directed hands and energetic gestures later we landed at the station. A buddy flew to the cash register, to hold the queue - the bus was just leaving - and I ran to an ATM. The card test in the new country was successful and after a while we were moving east.
When we were approaching Pelotas, we persuaded the driver, to get us off before going into town. Still on the highway. He looked at us as if we were crazy, but he stopped the machine. We caught the internet at the gas station (a quick check if we have where to sleep in Porto Alegre and if we are on the right track), we bought our first Coke (for some reason, during uncomfortable journeys, the temptation of unhealthy ones increases, sweet, caloric drinks) and after a while we went on tour.
Brazil is not Uruguay
Pierwszą różnicą jaką dostrzegliśmy w porównaniu z Urugwajem była szybkość przemieszczania się samochodów. No more lazy pace. Here, all cars fell to the limits of their abilities. Po drugie, no more friendly road with a wide shoulder - here you had to walk glued to the side rail. Well… we'll see what it will be like.
And we saw quite quickly ... After the first turn, we landed among houses without windows, colored laundry on strings and people without shoes. In a word, a small favela by the road. People were watching us closely, the drivers, of course, were afraid to stop, and we, with our tourist humps, quickly tried to move beyond the reach of curious eyes.
– O, this is what slums look like, where I work in Argentina - said my friend.
– You think, it's dangerous here?
– Mhm, he confirmed.
In proof of his words, a guy left one of the houses and started to follow us. Fortunately, after some time he got discouraged.
Frog jumping tactics
We walked for a few kilometers - especially feeling on the viaducts, that soon a car will stick us to the railing - watching the faces of other drivers waving their fingers or signing, that they are about to turn.
– Nobody goes straight ...
– Cheap excuse, muttered his pal. We laughed darkly.
– Not, next time someone shows, that it turns, let's nod our heads as if that's what we meant.
– Okay! - he rejoiced.
As if by a miracle, the next driver showed that "unfortunately" and "out of the way" and all, but! he didn't expect our Polish trick - we started nodding our heads and waving like crazy. He stopped when he was impressed. We ran to the car like crazy.
– It worked! - we shouted to each other.
– You're hitchhiking in Brazil? The guy was surprised. - I can only drop you off a dozen kilometers. We happily agreed. Later, we used our tactics a few more times, but unfortunately, as a result, we were dropped off by a couple, several kilometers. Until the moment, when we started to doubt it, that whoever stops that day and ...
But about that next time.
Interesting fact on the side: in the south of Brazil, every second person is from Germany. But my high school German teacher was right. This language comes in handy sometimes.