Communication – Lublin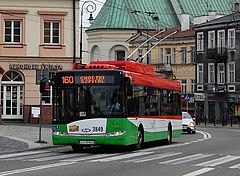 How to get to Lublin and how to get around Lublin? What is worth knowing about Kozi Gród, where to find tourist information, city ​​hotspots with free internet or medical assistance. How to explore the city and where to find a travel guide? Or maybe a sightseeing tour of Lublin with a guide in a historical costume, who will tell Lublin legends and show the devil's stone or devil's paw burned on the judge's table that still stands at the Lublin Castle. Here you will find answers to questions about your stay in Lublin.
The Municipal Transport Company in Lublin is the main and largest means of transport in the city. From 1 January 1929 provides transport services for residents for years, gaining recognition and prestige. The company has 106 trolleybuses and 231 buses that are becoming more modern and comfortable over the years. The latest vehicles provide passengers with air conditioning and Wi-Fi wireless internet.
In order to provide amenities for the elderly and handicapped people, high-floor vehicles are replaced with low-floor vehicles. In vehicles running in Lublin, there is a voice message and straps with which the stroller can be attached for transport. By focusing on environmental protection, vehicles are modern and ecological. More info on page www.mpk.lublin.pl
TAXI
Lublin is a city of several dozen taxi corporations with passenger and cargo cars of various brands, thus satisfying the requirements of even the most needy customers. Radio-Taxi corporations in Lublin have existed for many years, thanks to which they have gained experience in the transport of passengers and luggage. A large number of cars with a taxi logo in Lublin causes, that the waiting time for our means of transport is maximum 5 or 10 minutes depending on the time and day of the week. Of course, the highest taxi load is on Friday and Saturday evenings, when young people and students return to their places of residence from parties. But even then, with the increased number of taxis in Lublin, the waiting time is not long. Cars in all taxi corporations in Lublin are equipped with air conditioning, audio and some even amenities such as wi-fi. Lublin is a city of students, so many taxi corporations offer discounts for students.
CAR RENTALS
If you have planned a stay in Lublin and you like to move in comfortable conditions, we offer you car rental. There are several car rental companies in Lublin offering various brands and classes of cars, thus satisfying the various requirements of both private individuals and companies..
Car rentals in Lublin have been offering hourly car rental for many years, day, a week or even several months. The car rental fleet offers the latest models of passenger cars and vans from the most famous manufacturers. The cars offered to customers are serviced and regularly checked to ensure the highest quality at an affordable price.
Cars offered in Lublin rental companies are equipped with air conditioning, radio with CD, airbags, ABS and other necessary improvements to ensure driving comfort and safety. Cars are delivered to the agreed place, and in the case of some companies, cars rented in Lublin can be returned in Warsaw or another city. And conversely: cars rented outside Lublin can be returned in Lublin. There is also the possibility of renting a car and driving it abroad.
PAID PARKING ZONE IN LUBLIN
In Lublin, there is a paid parking zone in the city center. Aleja Solidarności is the northern border, to the west, Lubomelska and Lipowa Streets, then Narutowicza Street, Bernardyńska, Żmigród. From the east, Podwale Street and Plac Zamkowy.
Parking in this zone is charged from Monday to Friday from 8.00 do 17.00 The payment of the fee by the parker in the SPP is possible via:
– purchasing a parking ticket in one of the 90 parking meters.
– purchasing a parking subscription.
– launching the service charging the parking fee in the SPP on the mobile phone.
Parking fees are:
– for the first hour 2,00 PLN
– in the second hour 2,40 PLN
– in the third hour 2,80 PLN
– for each additional hour 2,00 PLN
– 24-hour daily ticket 15 PLN
– parking the sightseeing bus – 10 PLN (for each started hour, applies only to Castle Square in Lublin).