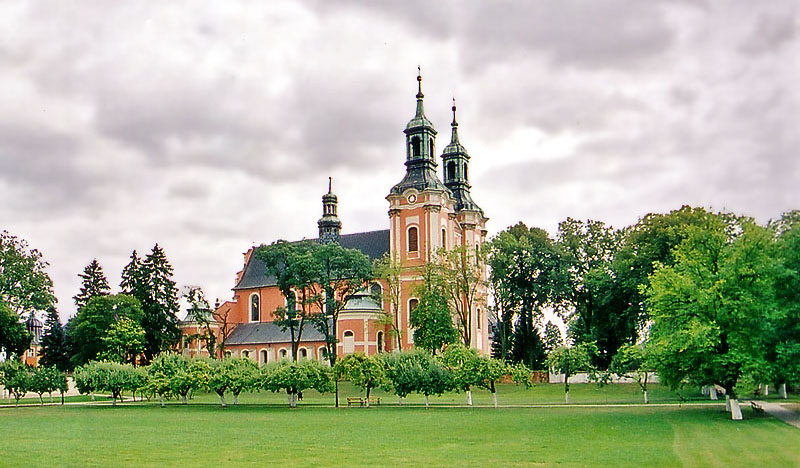 GOŚCIKOWO-PARADYŻ – village, halfway between Świebodzin and Międzyrzecz. Sanctuary of Our Lady of Paradyska in the Diocese of Zielona Góra and Gorzów.
Bronisz, the voivode of Poznań, was the owner of the village of Gościkowo, who donated his property to the founding of a Cistercian abbey. W 1234 the monks who came from Lehnina in Brandenburg named the new monastery Paradisus Beatae Mariae Virginis. The abbey played an enormously important role in the history and culture of Poland until the cassation by the Prussian authorities and final confiscation in 1834. From 1952 the former monastery houses the Higher Theological Seminary. Church of. Assumption of the Blessed Virgin Mary and St.. Martin Bishop from the 13th century. it was rebuilt many times. Its present appearance dates back to years 1633-1788. In the chapel of Our Lady there is a painting famous for its graces (of the Hodegetria type) painted on canvas.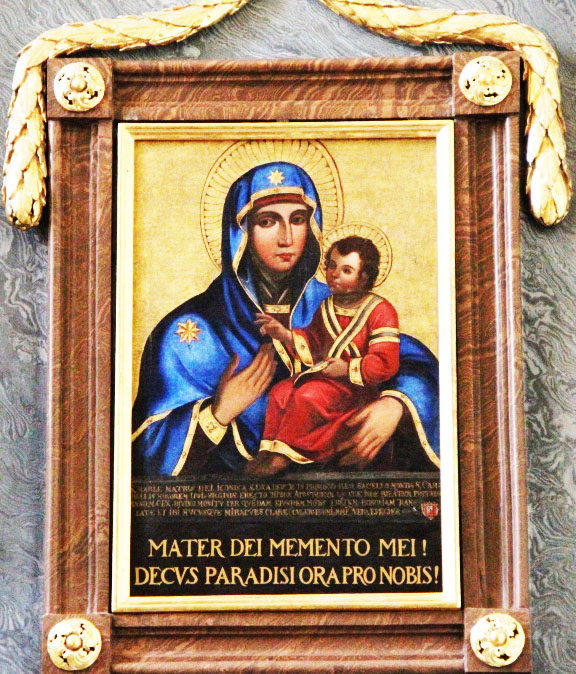 It depicts the Mother of God with the baby Jesus and is made by an unknown Italian artist around 1650 copies of icons from the church of St.. Luke in Bologna. His story is contained in a Latin inscription at the bottom of the picture: "Image of the Blessed Virgin Mary, Mother of God, painted by St.. Luke, placed first in a chapel on Mount Carmel, erected in honor of the Blessed Virgin Mary in apostolic times. Hence brought to Byzantium, a w 1160 transferred by the monk Euthymius to Bologna by divine command, where he became famous for numerous miracles ". There is a second inscription below: "Mother of God, remember about me! The ornament of Paradyż, pray for us!". The copy was commissioned by Fr.. Zygmunt Czyżowski - secretary of King Władysław IV, who was in Rome during the celebration of the Holy Year 1650. After returning to Poland, as an abbot, he offered the painting to the monastery in Paradyż. The image of MB Paradyska soon became famous among the Polish population in the Lubuskie and Brandenburg regions. From 1658, when Poles were abbots of the monastery, became the mainstay of faith and Polishness in western Wielkopolska. The painting was surrounded by numerous votive offerings, which were looted in 1740. The Russians caused much greater damage in 1814. After the dissolution of the order, worship was limited. Po 1945 Salesian priests took care of the seminary, who ran a boarding school for boys here. From 1952 the entire monastery and church were taken over by the Major Seminary. From now on, the Mother of God in the image of Paradyis is "Hodegetria" for the students on their way to the priesthood. In indulgences falling on 15 August and 11 November, as well as Marian feasts and seminary celebrations are attended by the faithful from nearby parishes.