Hitchhiking - Montevideo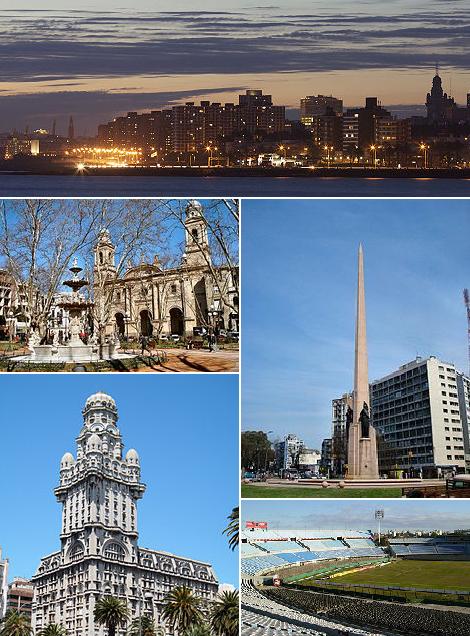 We got to Montevideo before dawn - me and my best friend, which took me for the whole trip. Traditionally, we did not have an accommodation. Korzystając z jego telefonu postanowiliśmy podkraść skądś internet na dworcu i wreszcie udało się nam znaleźć biuro podróży z niechronionym łączem (but they caught on quickly, that we use their link and they cut us off ...). We walked around the station with the phone outstretched, like dowsers, looking for water and finally on the first floor we grabbed something from a closed music store - bless it will not turn off the routers for the night!
We sent out the summons in the hope of some welcoming response from couchsurfing Uruguayans and after a while we went to the city. Sightseeing with a 15-kilo backpack on the back is not one of the best tourist tactics, but there was no alternative. The friend knew the city well, so we walked down the main avenue towards the port. We didn't have a penny of Uruguayan currency and ignoring gurgling stomachs, we were keenly looking for a currency exchange office, who wouldn't want to rob us completely (we didn't find one until a couple of hours later).
Montevideo turned out to be very peaceful, lazy, a safe and charming city. So quieter, mniej szalonym Buenos Aires, trochę przypominającym argentyńską La Platę. Moreover, it was packed with people, who happily helped us find our way or later get out of the city onto the highway. Main Street, leading from the train station to the port and the old town, it probably houses all the buildings worth seeing - admittedly, there is really a lot of very nice architecture in the city. Especially the port districts are extremely charming. The main square with government seats and an unusual skyscraper from the beginning of the century is also interesting. I can't comment on interesting clubs, cafes, restaurants or even museums, for a simple reason, that we spent a total of five hours there, mostly hanging around and admiring the architecture. Then we wandered by the sea, walking along the famous Rambla and we went back to the station by a different route, where we caught the bus, who took us outside the city. Przyszła pora na łapanie stopa!
Out of curiosities: in Uruguay, everyone drinks mate. Walking down the street you can see people everywhere wearing a thermos with hot water under their arms, and in the other hand a wooden gourd with a familiar metal tube. Even the drivers don't let it go. Apparently it grows in winter, which would explain the scale of the phenomenon, but anyway, this is the first thing that catches your eye.
In Uruguay, it is worth eating Churros or Milanesa, i.e. a hamburger with an egg and numerous interesting spices. In Montevideo, we survived with one Churros per head. O 13:00 już jechaliśmy busem poza granice miasta i tam zaczęliśmy po raz pierwszy łapać stopa – o czym napiszę już jutro.