Mount Sinai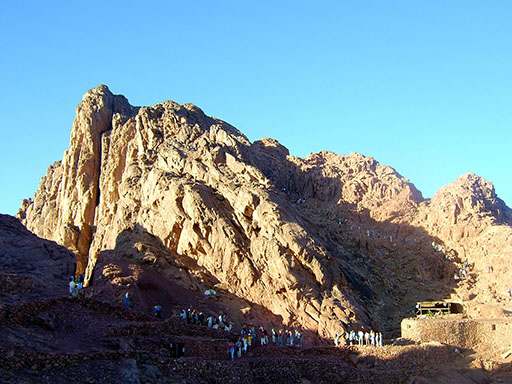 So, it is a tourist dominated place, but… it is possible to avoid them and survive on this extraordinary mountain some wonderful, lofty moments. How to achieve it? And why exactly the sunrise in the deserts makes such a wonderful impression? Come on, that I will answer ...
Mount Sinai or ...
2285 meters of rock, slightly reddish. It was here that God dictated the Ten Commandments to Moses, it was at its foot that he appeared to him in the form of a burning bush and it was here in one of the caves the prophet Elijah was hiding from Jezebel. And it's close to this place, today in the beautiful monastery of St.. Catherine, there is a well, where Moses met his wife Sephora. So many legends.
There are two routes to the top. Longer, the so-called. a camel so named because, that - surprise! - you can cover most of the way on the back of such a hunchback. The shorter one is de facto a staircase and a narrow rocky path. We entered the longer one, and we went down with a shorter one.
Okay, but what exactly do people go in there for? It means, people not very religious like me?
Sunrise
I read a couple of times at sunrise in the desert, as something special, but I didn't know why. Well, I already know. First, suddenly out of nothing, the whole world emerges from darkness. In the city, in the forest, we have a sense everywhere, that something surrounds us, in the desert there are only us and emptiness. Thread. And suddenly the whole world reveals itself, bursts with color around us. Besides the colors! For a moment the desert is full of color. Later, the blinding sun will turn everything white, but now, for this one moment, we see every detail, every bit of life, who survived here.
Our experiences were additionally enriched by a group of German Muslim women, which greeted the sunrise with singing and bowing. It was a specific group.
But, I almost forgot. How to enjoy the peace at the top of the mountain? Well, for some reason, virtually all tours arrive at the foot of the mountain at the same time. So it is enough to run like a fool uphill and we should have a good forty minutes without tourists, accosted only by a few Bedouins, trying to tear the Egyptian pounds off the blanket. W 2004 year they wanted 10, we won 5, as the only one, but we got a terrible one, a dirty blanket taken off a camel. Well ... And the blanket was really useful - because you know, if you run upstairs, then you sit sweaty at a temperature of approx 10 degrees until morning. Not too nice!
I oczywiście trudno wyobrazić sobie w Egipcie miejsce bardziej różne od Kairu czy Hurghady i Sharm-el-Sheikh.