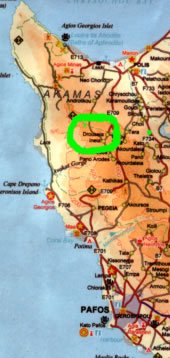 The rocks are on the western slope of the mountain with a Cypriot army base (the base is not marked on tourist maps). Antennas – radars, from the base they are visible from 8 km.
Rock is a very hard sandstone with excellent friction. Rock height up to 55m. GERAKOPETRA in free translation "Falcon Rock".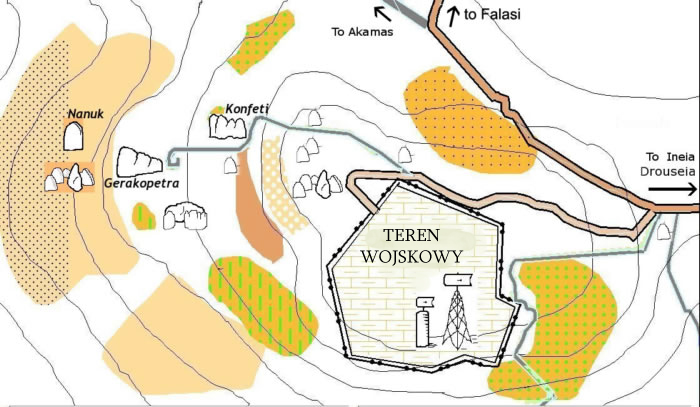 Drive:
From Paphos we go to Pegeia, potem do Kathikas, and then through the villages of Kato and Pano Arodes, to Ineia or Druseia. You can get lost in the streets between houses. After passing Ineia, we reach a hill with a military base and antennas, here a concrete road with a no entry road turns left up (this road belongs to the Cypriot Army). Cypriots normally ignore this entry ban (they usually say in the Cypriot dialect that they are going to the rocks and that's it ) but do not count that the military will be lenient towards foreigners. We park somewhere near the concrete road and go up with this concrete then turn right onto a dirt road, but we can already see the rocks so we know we are there.
Coming by car, you should follow the antennas that are visible all the time and if you lose orientation between houses, ask for directions to the village of Falasi.
Read markings ;
(no.)= 1. (road name) = Millennium (insurance) [2p + A] = two points (spity / ringi) + downhill ride – Anchor-encore stance.
Gerakopetra
Rock of Nanuk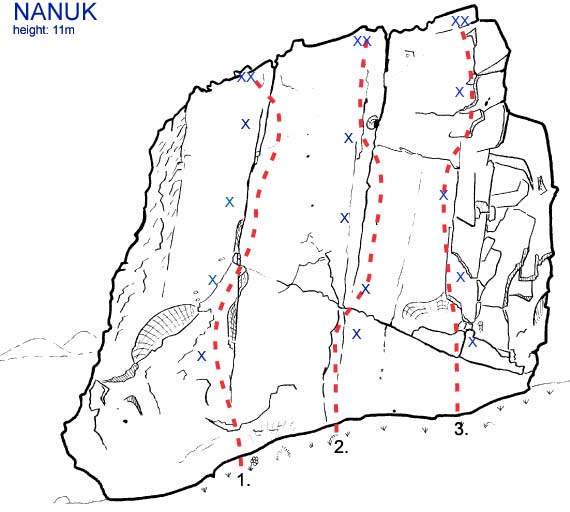 1. Dulfer apo tin Krakow 7a + [4p +A ]
2. Feroti Aleppo 6a [4p + A]
3. Nanuk 6a [4p + A]
Rock with Roof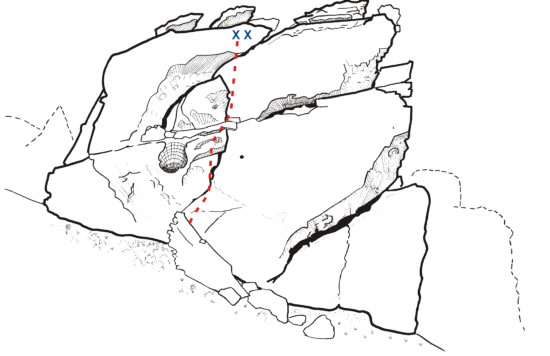 1. Brittle Crack 6b [only rappel anchor]
Gerakopetra from the north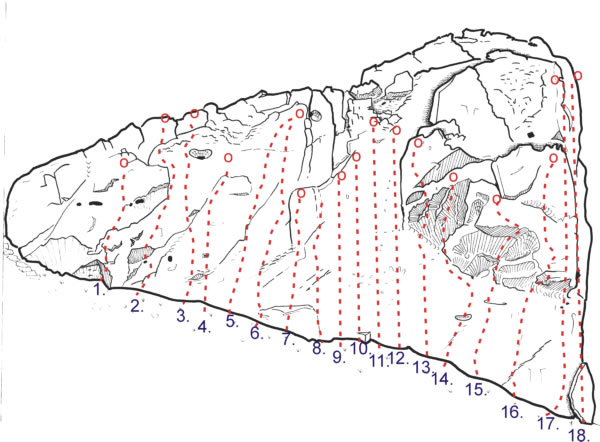 1. Alexsandros – 6a [5p, +A]
2. Monahiko Pnevma – 5a [7p +A]
3. Vasilino Pronomio – 6a+ [6p +A]
4. Proti Epafi – 5b [6p +A]
5. ΓΑΡ (AT ALL) – 5c [9p +A]
6. Dilimma – 5b [8p +A]
7. Irmos – 4 [4p +A]
8. Accounts – 4 [5p +A]
9. Agnumenos -4 [6p +A]
10. Elena – P. [7p +A]
11. Pare me – 5b [9p +A]
12. Frixos – 5b [10p +A]
13. Andreas Prodromu & Charis Charalambous – 5c [9p +A]
14. Kathodigitis – 6a [9p +A]
15. Nomos tis Varititas – 7a+ [7p + A]
16. Kenourgiya zoi – 6c [10p + A]
17. Krimmenos Thisavros – 6b+ [12p +A]
18. Iliovasilema – 6a [10p +A]
Gerakopetra from the west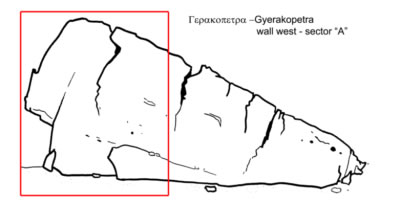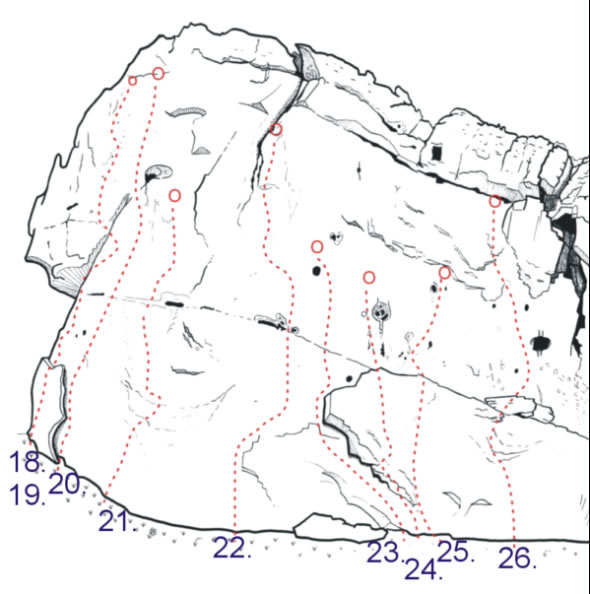 18. Iliovasilema – 6a [10p +A]
19. Iliovasilema Direct – 6b [12p +A]
20. Trella – ? [14p +A]
21. Ta Phenomena Apatoun – ? [11p +A]
22. Peter Pan – 8a [8p +A]
23. Crazy Re Crazy – ? [8p +A]
24. Etsi Ki Allios – 5c [7p +A]
25. Iptamenos Scorpios – 6b or 8b+ [8p or 7p +A]
26. Fuckin Green Elenta – 6a+ [10p +A]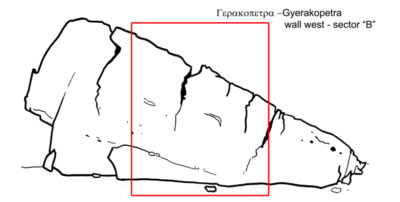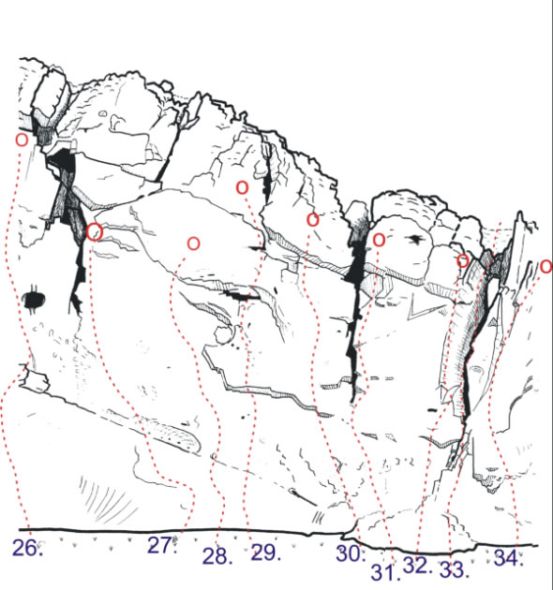 26. Fuckin Green Elenta – 6a+ [10p +A]
27. Toxo – 5c [8p +A]
28. Fanaklu – 6a [7p +A]
29. Ydatino Perasma – 7a+ [6p +A]
30. Telia Gerammi – 6c [7p +A]
31. Da Vinci Code – 7a [7p +A]
32. Prigipas – 6c+ [7p +A]
33. Bic Crac West Wall Gerakopetra – 4+
34. Magika Padia – 6c+ [7p +A]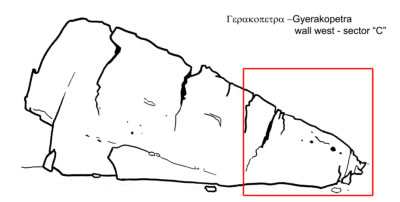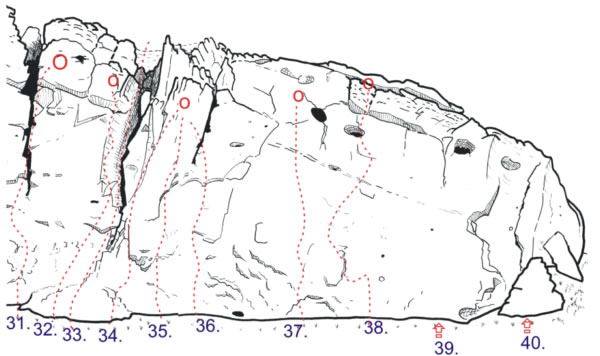 31. Da Vinci Code – 7a [7p +A]
32. Prigipas – 6c+ [7p +A]
33. Bic Crac West Wall Gerakopetra – 4+
34. Magika Padia – 6c+ [7p +A]
35. Sao Devil – 6b+ [8p +A]
36. Free But Focus – 6b [6p +A]
37. Fack Moncky – 6b+ [6p +A]
38. Poloniya Guarana – 6b+ [8p +A]
39. Project
40. Project (crack)