Turkish side – Pendadactylos Mountains
Pendadaktylos (or Penthadaktylos)
The name of the Pendatktylos mountains in Greek, and in Turkish they are called Besparmak 740m above sea level, in both languages ​​that is "Five Fingers" and it comes from the rocks which look like five fingers of a hand sticking out in a band of hills from a distance. They are one of the most enchanting mountains and will delight everyone with their beauty. The most popular climbing area is the Penthadaktylos rock massif. Mainly the English climb here on their own protection and make sure that there are no roads insured with permanent flights.
There are many beautiful rocks on the Turkish side, but they are often near military units, which means that it is forbidden to move freely in the area.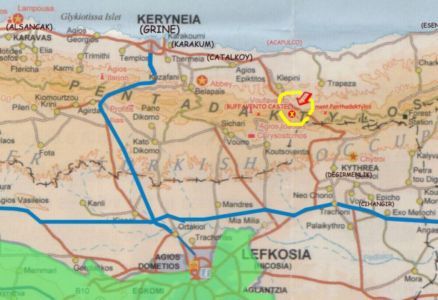 There is some confusion about the name of these rocks, because; rocks of Penthadaktylos, they are in the Penthadaktylos mountains, near the Penthadaktylos Pass, which in Turkish are called Besparmak. But it's hard to miss the place because they are visible from at least 70km.
Drive (I give the names first in Turkish, then in Greek because road signs are there only in Turkish):
The rocks are near the mountain pass Besparmak (gr. Pendadactylos), which we will get to;
1. with Kyrenia (Kerynia) through Catalkóy (gr. Agios Epictitus) then near the village Acapulko following the road to Lefkosa ( Lefkossia ) through (or rather, the road runs alongside) locality Milling ( gr. Kythtrea ).
2. Or on the other hand, coming from Lefkosa from the expressway to Gazi Magusta (gr. Famagusta) you have to turn on Milling /Catalkóy and drive up the rutted road to the pass.
Then, on the spot from the asphalt road, you need to see a convenient exit to one of the field roads running under the rock massif, or park at the restaurant on the mountain pass and walk about 15 minutes. You have a clear view from the pass, orientation to all valleys and mountain slopes in the massif is not a problem.
For now, about the roads in the Penthadaktylos rock massif / Besparmak, I can't say much because my contact with the English climbing there is poor, but a few people promised to go with me and show me what's wrong:)