Turkish side – Pendadactylos Mountains
Area:

gr. Petra Tou Aetou = tur. Kartal Kayasy = Polish Orla Rock
In the district Kerynii (there. Kyrenia ) there is one area fully insured for permanent flights, it is a rock with the Greek name Petra tou Aetou, Turkish; Kartal Kayasy, and translates into Polish Orla Skała. In the next part I will write first the Turkish name then Greek because all the signposts are in Turkish anyway, .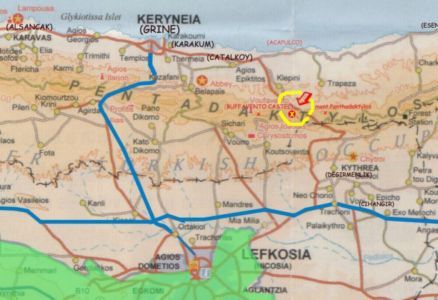 It is located right above, or by the road, with Kyrenia (Kerynia) through Catalkóy (gr. Agios Epictitus) do Lefkosa ( Lefkossia ) through (or rather, the road runs alongside) locality Milling ( gr. Kythtrea ). The area is close to the Besparnak rocks ( gr.Penthadactylos), below about 2 km from the mountain pass towards Girne ( Kerynii) on the northern shaded slope of the mountains. It is best to park about 100m above the rock in a bay in a pine grove (pay attention to the high threshold of asphalt when going downhill). From there there is a path towards the wall.
It is located there approx 12 fully insured roads, different lengths and difficulties. I haven't met anyone yet who would give me complete information about this beautiful area, so I don't know the names or the quotes, but it's worth going there if only for the beautiful views, cool shade, and beautiful rock.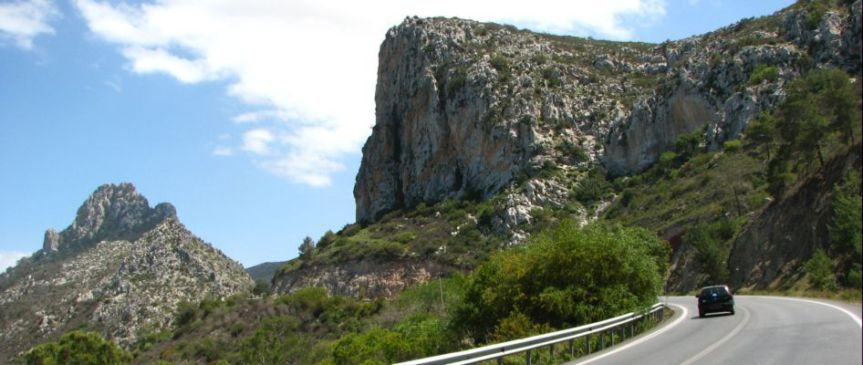 It is worth taking bones and frendy with you because 2 km away is a long and beautiful area of ​​Pedadaktylos.