White Bay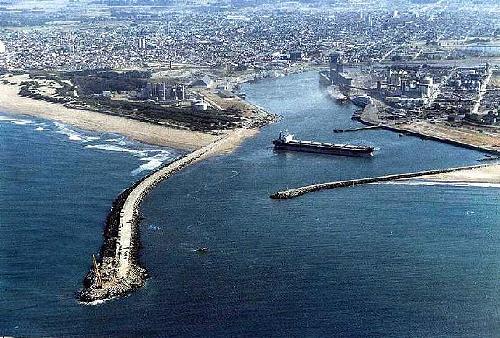 I give you my word, guides are created for elderly history and architecture lovers. It's not like that, I'm not a fan of the first or the second, but if it were not for a total accident, in my life I would not have come across the brilliant city of Bahia Blanca - my guide (National Geographic) devotes one column to it, for approx. 1/4 pages, and this is a city the size of Poznań after all. Jadąc w autobusie z Bahia Blanca do Cordoby (total luxury, price 160 PLN) I will try to pour it out, in as orderly as possible your experience.
As for the monuments, you can actually leave your camera at home. There is one nice park and two buildings in Bahia Blanca, which could be considered "nice and historical". The whole city is low, it consists practically only of single-family houses (some of them in the "slum" style), in the morning they are taken over by homeless dogs, and besides, it is dirty and contaminated (a small cluster of factories known as "Polo" makes one of the city districts virtually unbearable - if you've ever been to Piła, while it blows from the animal waste treatment plant of Mr. Stokłosa, you know what I'm talking about).
To make this picture even more beautiful, I will add, że dojechaliśmy tam pociągiem z Buenos Aires (the length of the route: 730 km) for 30 zlotys. The train was on 14 hours, the temperature at night dropped to a few degrees (residual heating + holes in the walls + wide open outer door = woo hoo! frost) and even after wearing the entire garment - a T-shirt, sweater, polar, blazer and jacket - I was dying of the cold and didn't sleep all night long, in a crisis moment, enjoying a cup of coffee. The Wars car looked like a toilet from a decade's stadium / a power plant that has been abandoned for years - which works more on your imagination.
So what is it about Bahia Blanca, which made everything else irrelevant? People and nightlife. Say what you want, but how is it 16-30 years, actually nothing else is really interesting. In this town, which would make people deeply proud - by comparison - of the inhabitants of such metropolises as Suwałki (excuse me, and, excuse me!) there are some clubs, which could boldly compete with the best dance houses in Warsaw, Krakow or Wroclaw. Especially the snobbish "Chocolate" (in the photo) z obłędnie pięknymi dziewczynami (the best not in the picture), great music and a dance floor full of to 6:30 in the morning it will stay in our memory. I will not forget the morning soon, I spent outside the club talking to a group of local students, shivering from cold in a T-jacket and jacket. And I will certainly not forget the girl, who by hugging and kissing me helped me, both of us, warm up. Walking her through a city full of stray dogs, throwing themselves at passing cars and motorcycles is already an experience in the "morning after the apocalypse" category. In any case, we've been there for two brilliant events and if by any miracle you would have landed on Friday or Saturday, head to Chocolate or Club Universitario and get ready for the best five hours of fun, what have you had the opportunity to experience.
And what kind of people are I so remembered for?? Apart from the aforementioned girl, of course, we met a legion of great characters here. Starting with the family, where we stayed for the night, and who welcomed us royally, while preparing the first evening of asado (traditional grill) and baking a whole piglet for us the next night. Our hostess was an English teacher, so of course we met a dozen people, which she taught. These people got to know us with their friends, they took us to home parties and clubs. Having been here for three days, including two nights, we met some forty super friendly people. Everyone is happy, willing to teach us Spanish and fighting bravely with their English. Ten people were sitting in our Polish cursing lesson, a video from an excerpt from the lesson, where they utter the worst Polish curses by chorus and laughter (available on youtube - I'll post a link on facebook, when I get permission) will be my top "humorist" for a long time to come. Did I mention beautiful and joyful girls??
For good measure, I can add, that in the area - within an hour's drive by car - there are two famous resorts with beautiful beaches (during our visit winter, but they were still impressive), and also the great Sierra Ventana mountains, which even the Tatra Mountains with beauty - are much lower, but very colorful and rises very steeply from a vast plain, for hundreds of kilometers around. We had the opportunity to admire the beauty of nature twice, always after a sleepless night - semiconscious, but completely infatuated.
All of this would not have happened, if a month ago the aforementioned family had not taken pity on the car, in the wasteland of my best friend.
Tips for visiting Bahia Blanca:
– I do not recommend walking in the slums
– don't go to the club before 2:00 in the night
– WYŚPIJ się przed wizytą w klubie, the fun will last until morning
– don't ask for dinner before 21:30
– visit the beach, mountains - there is not much to do in the city during the day (there is a cool ballet museum and an interesting immigration museum)