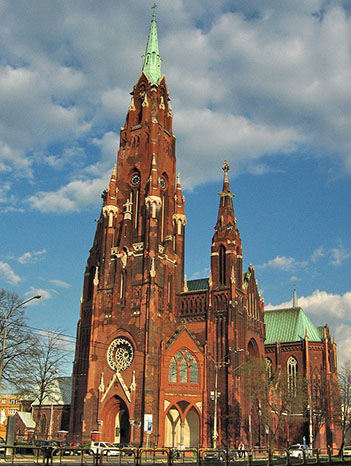 DĄBROWA GÓRNICZA – sanctuary of Our Lady of the Angels in the Diocese of Sosnowiec.
There is a large one in Dąbrowa Górnicza, Neo-Gothic church with a miraculous statue of Our Lady of the Angels. Its history goes back 1897, when it was the then parish priest of Dąbrowa Górnicza, pcs. Grzegorz Augustyniak, brought to the former church of. st. Alexander (built in 1885) a copy of the painting of Our Lady of the Angels from the church in Włoszczowa. The rapid development of the Marian cult, which followed, especially through the activity of the Brotherhood of Our Lady of the Angels, contributed greatly to raising the level of religious and moral life in the city. The ever-expanding parish required a larger temple, therefore in the years 1898-1912 the present was placed, brick church. Our Lady of the Angels, wearing from 1901 title of minor basilica. Inside, in the main altar, the statue of Mary with the Child was placed, made at the beginning of the 20th century. by J. B. Proszowski, following the example of the venerated in the Church of St.. Alexander's image. It shows the Mother of God with a scepter in her right hand and the Child on her left hand, standing on the globe and trampling on the head of the serpent entwining the earth. Little Jesus has both hands raised, and on his lap rests a royal apple.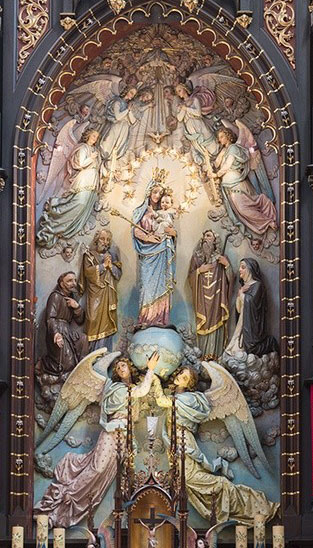 3 May 1957, accepting the requests of the townspeople, the Primate of Poland, Stefan Cardinal Wyszyński, proclaimed Our Lady of the Angel the Patroness of Dąbrowa Górnicza and Zagłębie, and eleven years later, 19 May 1968, together with Karol Cardinal Wojtyła, Metropolitan of Krakow and Stefan Bareła, Bishop of Częstochowa, performed the solemn coronation of the figure. Currently, the constantly growing cult of Our Lady of the Angels has spread to other cities of Zagłębie. Pilgrims flock, especially on the anniversary of the coronation (third Sunday of May) and on the feast of Our Lady of the Angels (2 of August).