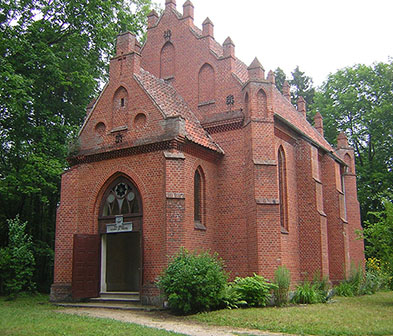 GLOTOWO (Glotowo, Glottau) -a village situated 3 km to the south. west of Dobre Miasto, in the Archdiocese of Warmia. Eucharistic sanctuary and calvary under the care of diocesan priests.
The tradition of pilgrimages to the Eucharistic sanctuary in Glotowo is dated on 2. half. XV w. According to legend, inhabitants of this settlement, fleeing the invasion of pagan Lithuanians assisted by the Prussians, they have left their homes, and they took the Blessed Sacrament out of the church and buried it in the ground some distance from the village. After many years, one of the farmers, plowing the earth with oxen, he found the Most Holy Host. A stone church was built on this site, to which many pilgrimages soon started arriving. In years 1722-1726 a new church was built. Holy Savior. In the left side altar, consecrated to the Sacred Heart of Jesus, you can watch the place, where, according to tradition, the Chalice and the Host were hidden from the Gentiles. The original chalice and host have not survived to our times. The temple is surrounded by a brick wall, on the corners of which four chapels with altars were built, intended mainly for the celebration of Corpus Christi. The cult of the Blessed Sacrament is still alive today.
Next to the church in the ravine there is a calvary called "Warmia Jerusalem". It is a memento of the pilgrimage to the Holy Land of the inhabitant of Glotow Johannes (Jana) Mertena. The construction of the Calvary began in 1878. The work was led by the parish priest of Glotowa, Fr.. Ferdynand Steinsolm. Efforts were made, to faithfully follow the length and slope of Christ's true way in Jerusalem. The Calvary is included 10 open pole chapels and 4 chapels-temples (Nailing to the Cross, Crucifixion, The Descent from the Cross, Entombment), Ogrójec and the Grotto of Our Lady of Lourdes. The chapels are built in the neo-Gothic style. Inside the chapels there are life-size figures depicting scenes related to successive stations of the Way of the Cross. The entire composition is complemented by 2 figures of angels: one of them is holding a sash with a quote from the Old Testament, and the other from the New Testament. In each chapel, they were placed under glass lampshades, brought by J. Merten's pebbles-relics from successive stations of the Way of the Cross in Jerusalem. The dedication of Calvary took place 18 May 1894, a w 1895 Pope Leo XIII granted the privilege of a plenary indulgence. From the moment of consecration to G.. Polish and German Catholics made pilgrimages.
Major religious ceremonies: Sunday after Corpus Christi, Exaltation of the Holy Cross. (Sunday after the celebration).