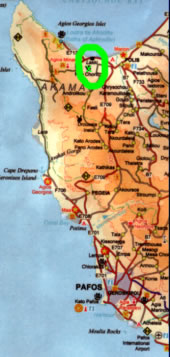 Latsi – Petratis Gorge - Climbing in Cyprus
"Gorge – Canyon "Petratis Gorge" [in Greek Πετρατις Χαραδρα ] also called "Latsi Canyon" due to the proximity of this village and the port to the canyon. The beginnings of climbing here were started by climbers from Poland together with the Czechs in 2007 year. There were several roads under their own protection and approx 15 wędek/ top-roupe. At the moment it is 11 roads fully insured for flights, 4 traditional roads. On the way, Maximus, the rest 10 roads is made by Poles.
The rock in the canyon is limestone of very different hardness, in one place it is as hard as granite and 10 meters next to it it is soft as school chalk, therefore it is recommended to wear a helmet.
The height of the walls is from 20m to 120m, but the top part is usually 32m suitable for climbing.
Drive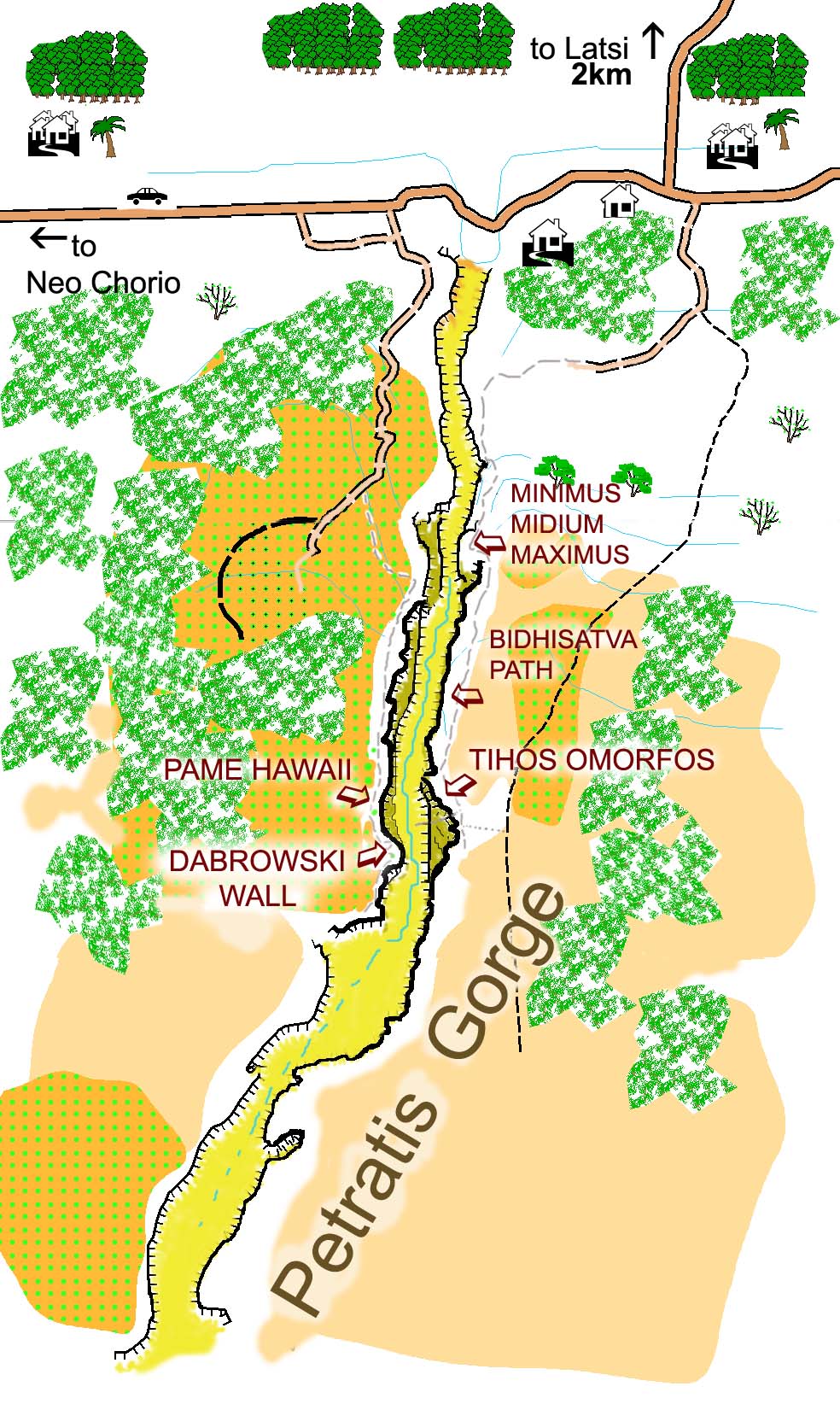 How do we get to Latsi (sometimes spelled Lakki and read LACZI) from the side of Polis; at the beginning of the village right behind the hotel "ELIA" And after the bridge we turn left, towards the mountains, and we venture into the maze of streets between the fields, villas and gardens. At the first crossroads, we turn right, then at the next intersection (about 400m) we turn left, and then we only go along an asphalt road. Every now and then we should see the canyon appear between the trees.
From the port to the mouth of the canyon, you can walk 25 min, but from the beginning of the canyon to the climbing sites it is about 18 minutes further, it is a very nice walk. You can walk through a maze of ledge paths or along the comfortable top path over the rim of the canyon. The paths are marked with mounds as in the mountains. I recommend walking along the upper path and then zipping down to the base of the wall on the shelves.
Unfortunately, it is not possible to easily and comfortably walk from one side of the canyon to the other. There is a marked path that creates a walking loop, but it is a high-performance path, sometimes a rushing stream can be difficult in the spring, but you can try to get through for the adventure itself.
Shelfs, from which the climbing routes start, they end with a cliff. We advise against attempts to zip down from the ledges to the bottom of the canyon and try to climb the opposite wall. The rock at the bottom is soft chalk and is not suitable for climbing, in addition, the bottom of the canyon is either flooded with water or overgrown with jungle . It's best to choose to climb one side of the canyon.
THE CANYON IS DESCRIBED ON THE LEFT SIDE AND RIGHT SIDE
Read markings ;
(no.)= 1. (road name) = Millennium (insurance) [2p + A] = two points (spity / ringi) + downhill ride – Anchor-
———————————————————————————————————————–
LEFT SIDE – LEFT WALL CANYON – EAST
LEFT WALL- CANYON SIDE
——————————————————————————————————————————————————–
Startsite wall
1. least 5
2. Midium 5b
3.5c biggest +
——————————————————————————————————————————————————–
Trawers + three pillars of zen
three pillars of zenlatsi 02 trawers 2400
4. Trawers 3+ [4p]
5. Three Pillars of Zen 6b+ [10p + A]
—————————————————————————————————————————————————–
Bodhisatva Path
6. Bodhisatva Path 6b + [8p+A]
—————————————————————————————————————————————————-
Squadron 303
7. Squadron 303 (303 Squadron) – 6a+ [11p +2A]
————————————————————————————————————————————————-
Tihos Omorfos
8. Tihos Omorfos 6b + [8p + A]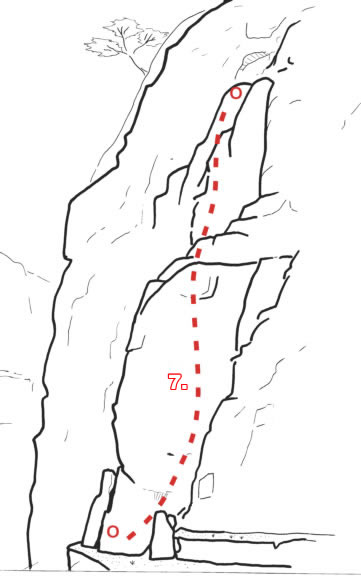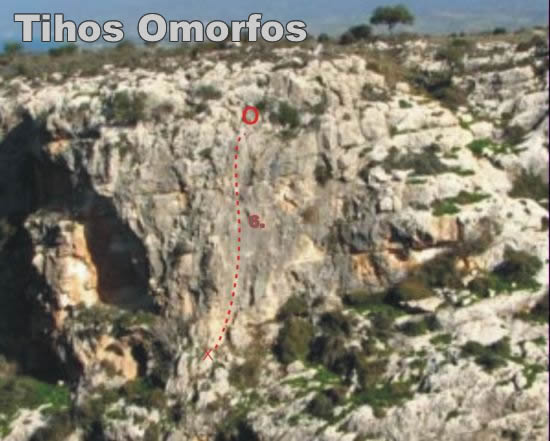 ———————————————————————————————————————————————-
Dabrowski Wall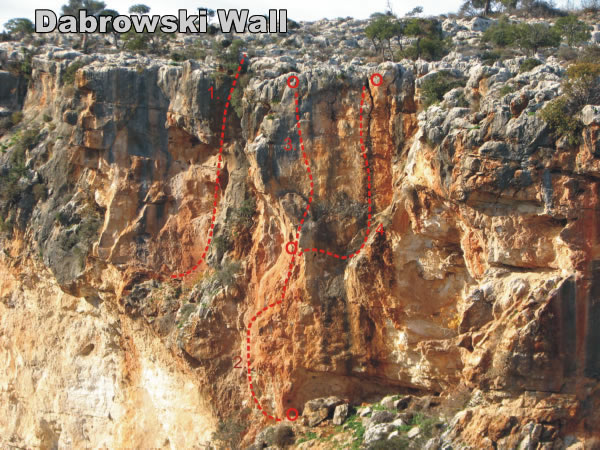 1.Bob's Crakc 5b
2.Dabrowski Wall buttress 6a+ [8p + A]
3. Dabrowski Wall left 6b+ [7p + A]
4. Dabrowski Wall rigth 6b [8p + A]
Pame Hawaii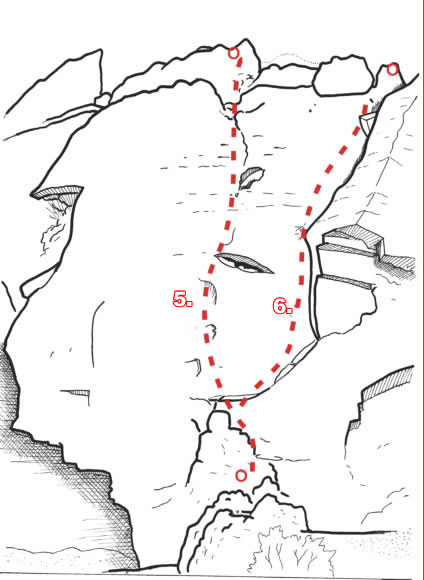 5. PameHawaii 6b+ [8p +A]
6. Pame Hawaii crack 6b [olny rappel anchor]