Sao Paulo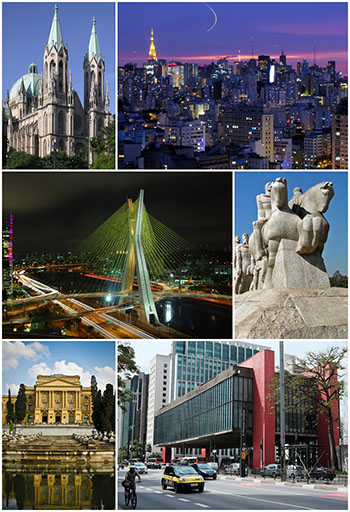 Sao Paulo - the city, in which is everything. The second largest metropolis in the world, for Tokyo. Eleven million inhabitants right in the center, 29, when we consider the entire metropolis. City, where they sell Kafka's works instead of romance novels at newsstands, Sofoklesa, Seneki i Pessoy. I spent a week there, I left them regretfully and swore to myself, that someday I will go back there. I could live there basically from today.
Many people go to Sao Paulo, but few people know them. The cheapest flights to Brazil go here or to Rio. Every third tourist will probably get off in this city, maybe he will take a walk on Avenida Paulista, he would see a museum and be assembled north as soon as possible, where it is warm and where are the best beaches. The city is therefore virtually free from snapping photos of invaders. Those few, who stay there for a while are lost in a sea of ​​natives.
So what Sao Paulo has to offer? Basically everything. In six days, I had great parties, I made my debut on the karaoke scene, saw a great museum, I came across fashion week (one of the most prestigious events of this type in the world - among the guests of Giselle, Ashton Kutcher et al.), genialnie jadłem i po raz pierwszy w życiu surfowałem. I officially believe, that it is impossible to get bored in this city, and gigantic, ethnically mixed and well-educated population makes, that we can be sure to meet interesting people. There are literally hundreds of clubs and thousands of bars. You can find everything from clubs with an admission ticket too 250 zlotys, where people torn from casting have fun, after great, alternative partying places where you will find actual and would-be artists (I especially recommend Rua Augusta). Within a week, I met stylists, models, a large group of sports journalists, journalists from the local tabloid, literature students and a crazy group of party nurses. Have I told you already, that Brazilian girls kiss the best in the world?
In addition, the city never sleeps and has a really wild energy. After weeks of wandering around the various metropolises of South America, I felt at home for the first time. Tempo w jakim ludzie biegają po centrum i po Avenida Paulista w ciągu dnia dorównuje najbardziej zakręconym biznesowym miastom jak Londyn, Paris, Singapur czy… moja ukochana Warszawa. Let's add beautiful to that, extensive parks, great food ... I just go back there.
Some downsides? O, so. Of course. First of all, if someone does not like the fast pace of life, this city can be, as i suspect, finishing. Second on the subway, in rush hour, can get squashed. Third, it's not safe at all. Homeless people are everywhere, and the city center at weekends (when businessmen disappear from it) turns into crack addicts' vault - you really have to go fast. For me, however, even that had a charm - I like a little adrenaline, every now and then. Anyway - I'm going back there, but certainly not in old age. In my old age, I want to be in a boring and quiet place!
PS. Have I mentioned, that one and a half million immigrants from Japan live there and that some of them are beautiful?